In April 2015, Brian's House Community Group purchased a 4200 sq. ft. church located in Essexville, Michigan  that would become the new Brian's House.  
Our vision was to make Brian's House a home-away-from home for our guests and family. Provide large private rooms with a bathroom, yet have community living space to make it feel more like home.  So guests and visitors weren't "stuck" in their rooms.  
Through generous donations, fundraising events, and grants, we were able to convert this former church into a six-bedroom residence that features a sunroom, quiet room, large kitchen and dining room. The colors are bright and cheery.   The furniture and some of the button wall art throughout the home has been donated by McLaren Bay Medical Foundation.  
Renovations were completed in November 2016.  Our original plan had been to have Brian's House opened in January 2017.  Due to circumstances, we were not able to meet the January deadline.  We opened our doors on June 19, 2017.
During construction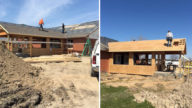 Fully Renovated
Bay Medical Foundation donated the furnishings that were at the former Brian's House on Midland Road in Bay City.  Through your generous donations and continued support, this former church has been turned into a home-like setting for end-of-life care.